Ten strategies on how to manage, scale, and sell on Instagram
In our incredibly digital world, e-commerce businesses are thriving. With internet access becoming more widely accessible around the world, the number of digital buyers has been steadily on the rise. These figures saw an extreme uptick in 2020 following the initial outbreak of COVID-19. Due to the pandemic and its subsequent lockdowns, more people were forced to shift their shopping activities online. In fact, in 2020, more than two billion people reported purchasing goods or services online, causing e-retail sales to surpass US$4.2 trillion globally.
Social media has also established itself as an essential tool in the digital retail space, with one of the most powerful being Instagram. Not only is it a powerhouse in fostering brand awareness, but the platform now has a huge bearing on the bottom line as it allows businesses to sell directly to consumers. In 2022, over 120 million users have selected a shopping post on Instagram, while 72% of people say that Instagram influences their buying decisions. 
However, social media marketing and e-commerce sales practices are always evolving. As a result, it can be tough to figure out exactly how to sell on Instagram. In this guide, we help you make sense of it by breaking down some of the most simple yet effective strategies for managing, scaling, and selling on Instagram. 
Social Media News in a Nutshell
Get the latest social media news, insights, and marketing tips in your inbox once a week.
Maintain a modern feed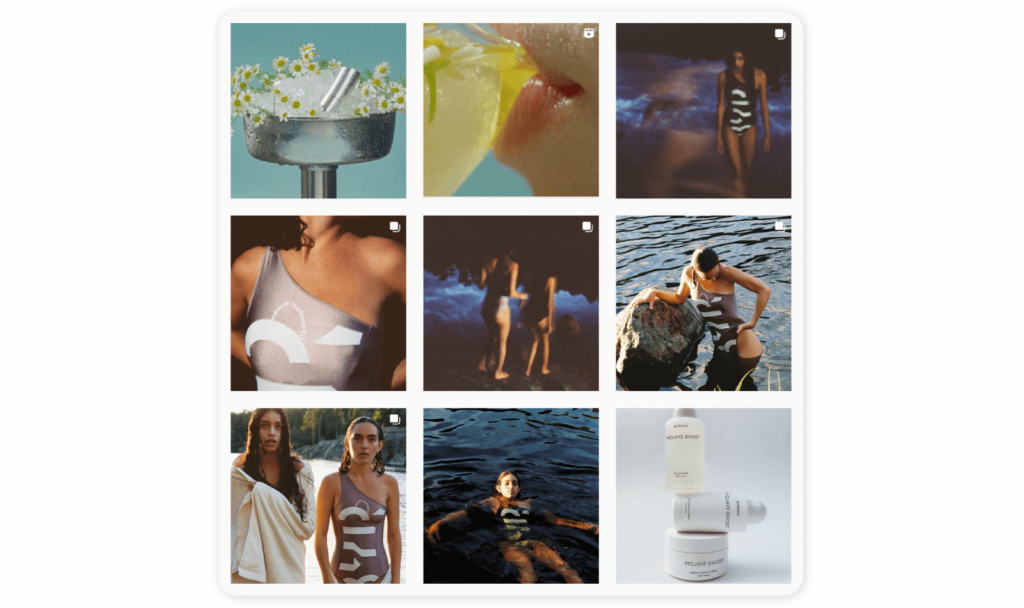 Your Instagram feed is your visual representation of your brand. However, it's also your opportunity to show that you're keeping up to date with the social media marketing practices of today. As such, it's important to walk this line incredibly well.
For example, while your brand identity might be sophisticated, chic, and refined, you need to follow the IG trends of 2022 to remain current. While Instagram trends used to veer more towards "perfectly curated," these trends are now over. In 2022, users have embraced a more careless, authentic Instagram aesthetic. The content is now very casual, with filters being used minimally (if at all). You'll often see users posting "photo dumps" full of informal images, wearing more natural hairstyles and subtle clothing, and using large text on posts. 
These more casual, genuine trends stem largely from other social media platforms, namely TikTok, which is dominated by Gen Z. Speaking to Nylon, one Gen Z content creator explained that Instagram has previously been known for this "unspoken rule that your posts need to be good enough to post; you need to have makeup on and look presentable."
Build your follower base
If you're hoping to scale your business on Instagram, you'll need to build your following. Social media management tools such as Sociality.io can be incredibly helpful in achieving this goal. For example, Sociality.io offers a comprehensive guide on building your Instagram follower base and thereby scaling your business' social media presence. The broader your reach, the stronger your brand awareness and the better your potential to convert more users into followers and paying customers.
Set up Instagram Shopping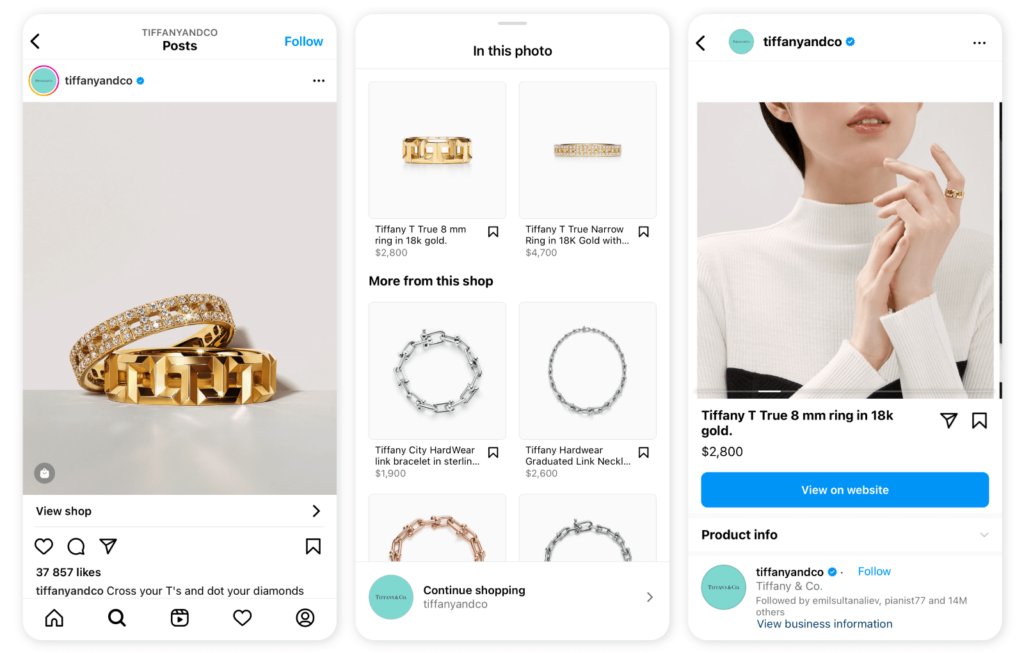 If you're wondering how to sell products on Instagram, Instagram Shopping is the answer you've been looking for. This in-app set of features allows people to easily shop your products through the images and videos on your feed. Through Instagram Shopping, you can set up your own Instagram shop, complete with collections and product tags that tell users more about your products. 
Eager to get started with Instagram Shopping? It's as easy as 1-2-3 with the following steps:
Ensure that Instagram Shopping is right for your business
Choose a tool to start the onboarding process
Input your details in Commerce Manager
Related article: How to add Shopping Tags on Instagram?
Start creating shoppable Instagram content
When it comes to selling on Instagram, a vital step in the process is blessing your feed with shoppable content in various forms, including images, videos, reels, and stories. 
To do this effectively, make sure you familiarize yourself with the best practices for shoppable Instagram posts. For example, using hashtags and product tags is essential to make your content and products as easy to discover and purchase as possible. You should also be regularly adding items to your catalog, which we'll discuss in greater detail in the following section.
Create and manage an Instagram catalog
An Instagram catalog is a huge asset to your business on Instagram, particularly when you're hoping to sell on Instagram. Catalogs can help your followers easily see the most up-to-date items in your shop as well as valuable information such as stock counts and prices. With these details, your customers can feel comfortable and confident in their purchasing decisions, making them more likely to return to you.
To start creating catalogs of your own, follow the steps outlined here.
Conduct competitor research
Competitor benchmarking is the process of measuring how your organization performs in comparison to some of its major competitors, making it an important practice for reputation management. It's also an exceedingly valuable tool in managing and scaling your business on Instagram, as it allows you to identify areas of strength and weakness in your brand. Additionally, it enables you to find new opportunities to innovate and outperform your competitors. 
To gain an advantage over your competitors, it's vital first to understand what they are doing to sell their products on Instagram and whether these tactics have been successful. You can then incorporate this knowledge into your own strategies for selling on Instagram as well as managing and scaling.
Embrace video content
Video content on Instagram – particularly Instagram Reels – will be hugely powerful in 2022. Because one of Instagram's main competitors is now TikTok, Instagram is embracing short-form video content more than ever before to keep up with the changing behaviors of social media users. As a result, you'll often see Instagram Reels heavily promoted on the platform, including in between Stories and on the Explore page.
✨ Bonus: TikTok vs Instagram Reels and how they've changed social media marketing
When learning how to sell through Instagram, be sure to embrace the power of video content. There is a huge amount of room for creativity here, helping you to promote and sell your products in new and interesting ways. For example, you can create tutorials on how to properly use your product, offer inspiration and tips that integrate your product in some manner, and/or post videos with influencers or customers who have firsthand experience using the product. Collaborating with other creators in this way is also an effective way to scale your business on Instagram, as you will be leveraging the existing audiences of those individuals.
Assess Instagram analytics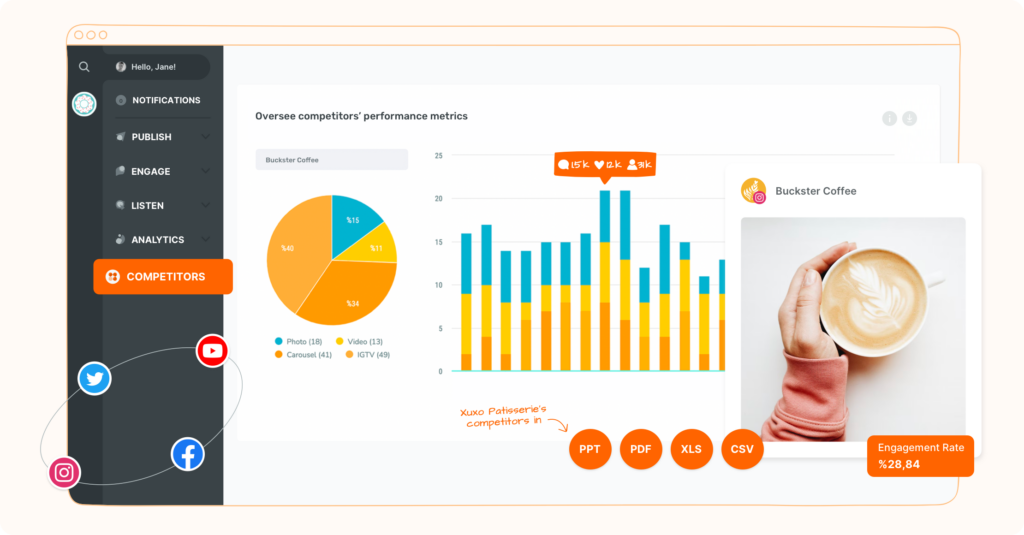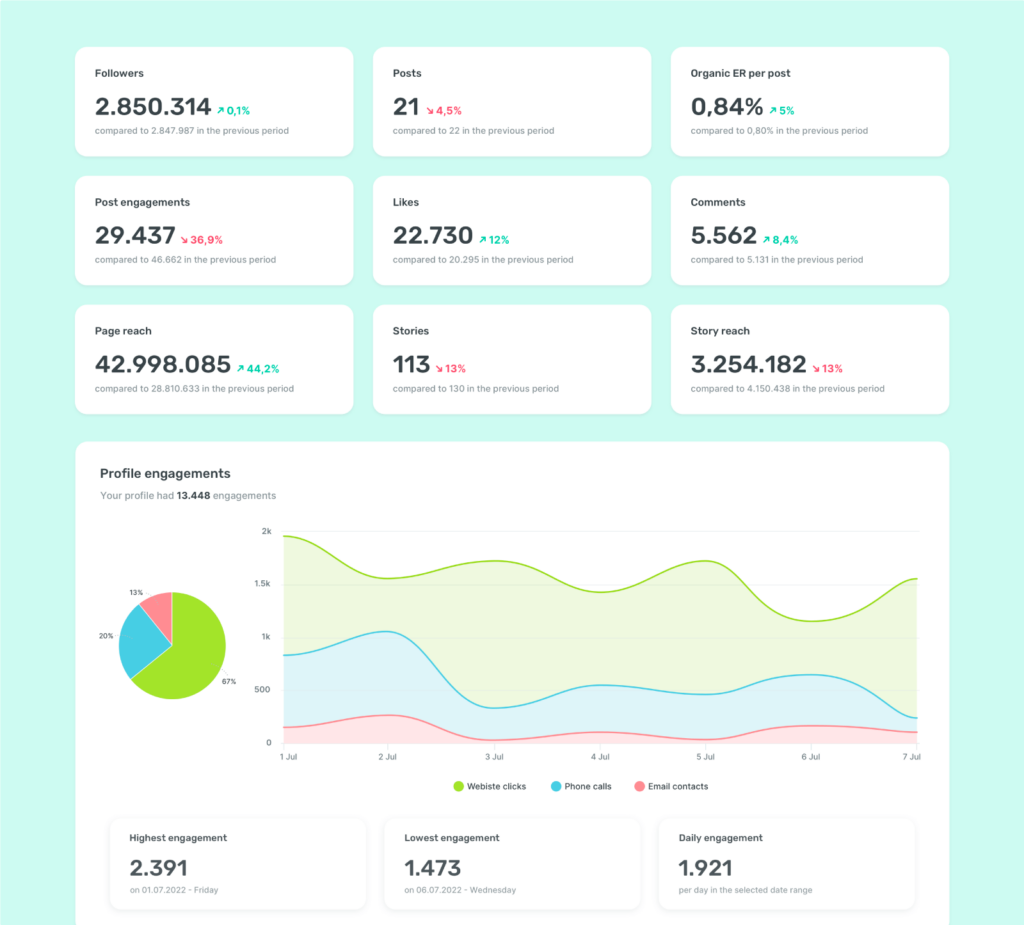 If you're selling on Instagram, Instagram analytics tools are your best friend. The insights found in Instagram Analytics provide invaluable guidance that can help social media marketers scale and sell products on Instagram. For example, you can assess your Instagram engagement rate and see if there were any spikes when you posted certain content. If there was, you can then assess what about that content resonated with your audience. Once you have that knowledge, you can then reintegrate it into future content to maintain this level of interest.
You can easily view your social media analytics, including Instagram analytics, directly in the app or via social media management tools such as Sociality.io. To do so, follow these simple steps:
Log into your Sociality.io account.
From your linked social media accounts, click on your Instagram account.
On the left-hand side, click Analytics.
From there, you'll be able to sift through a wide range of social media metrics that can help inform your future selling, managing, and scaling decisions.
Manage your reputation through sentiment analysis
When it comes to selling on Instagram, reputation management is crucial. How people perceive your brand can significantly affect sales levels and, therefore, your ability to scale. A sentiment analysis is a valuable way of assessing what people are saying about your brand online. Using this data, you can better manage your reputation and develop more strategic sales and scaling plans.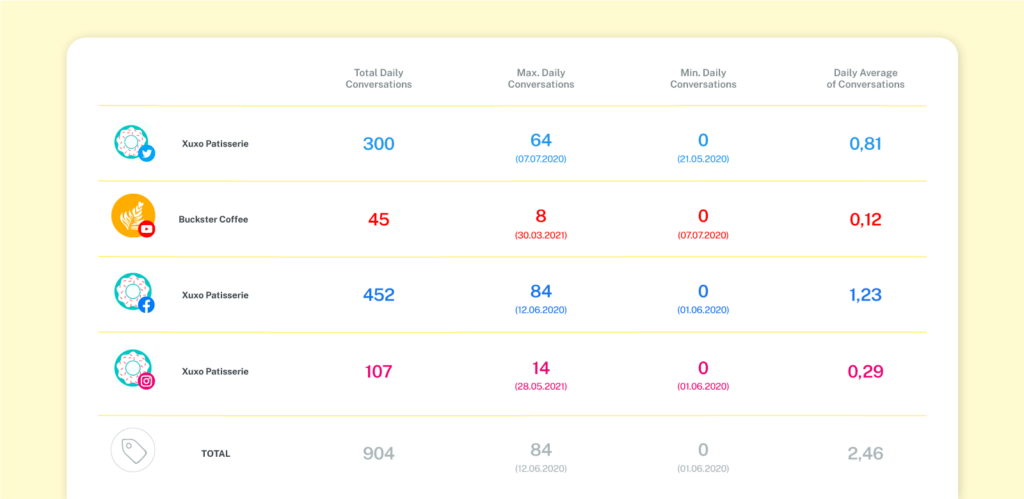 You can seamlessly conduct sentiment analysis on Sociality.io by using the Listen module. Here, you can examine the tone and sentiment of both direct and indirect mentions across hundreds of languages. You can even conduct advanced searches using filters to find specific data that will help guide your business decisions. 
Engage directly via DMs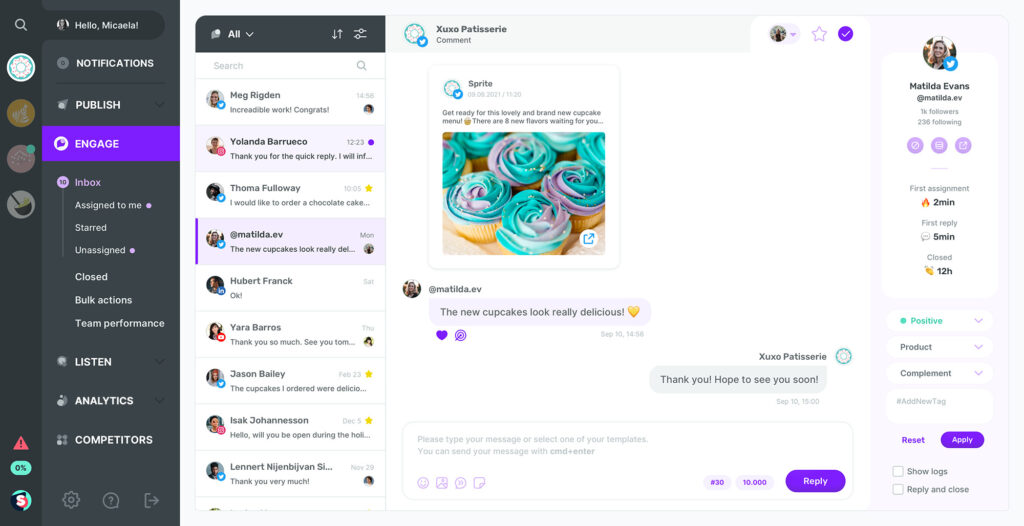 Direct communication is essential for businesses wanting to learn how to sell through Instagram. Fortunately, much of these communications (particularly the initial messages confirming receipt of inquiries) can be automated.
On Instagram, you'll often receive DMs from users, including potential and returning customers. To ensure they feel seen and valued, responsiveness is key. By automating your Instagram interactions (i.e., setting up auto-replies to first messages), you can improve your brand image in the eyes of customers and increase their chances of returning.