How to get followers on Twitter? The ultimate guide for social media marketers
In the age of social media marketing, followers are a valuable form of digital currency for businesses. A high follower count not only increases your brand's reach but also strengthens its public image. The more Twitter followers you have, the more reputable and distinguished your company appears, which is extremely beneficial in helping you stand out to consumers.
With that in mind, you may be wondering how to get more Twitter followers. If that's the case, you've come to the right place. In this ultimate guide, we explain how to get followers on Twitter using a wide array of unique and creative tactics.
Social Media News in a Nutshell
Get the latest social media news, insights, and marketing tips in your inbox once a week.
1. Leverage Twitter Ads
Twitter Ads – which take several forms, including Promoted Ads, Follower Ads, and Trend Takeovers – are valuable tools for growing your following. The main benefit of Twitter Ads is increased Twitter exposure; when you promote your content via ads, you gain the capacity to reach more users. Given that Twitter is such a saturated social media platform, with hundreds of millions of monthly active users, added visibility is extremely beneficial for users looking to gain more followers.
Follower Ads are particularly helpful when it comes to finding Twitter leads and converting them to followers. Follower Ads typically fall under Followers campaigns, which suggest accounts that users aren't currently following but may find interesting. Follower Ads are typically displayed in several locations such as the "Who to follow" section, your timeline, and the search results page. You can view the steps for creating a Followers campaign here.
Twitter Ads also provide you with access to Twitter Lead Generation Cards. These are streamlined tools that help marketers connect with users outside of Twitter. In essence, these cards are embedded directly within your Tweet(s) to collect user data in exchange for some kind of offer. You can later download this Twitter lead data into a CSV spreadsheet or arrange for them to be directly integrated into your CRM platform.
Ready to join the Twitter advertising network? Create a Twitter advertising account by following these steps.
2. Tweet regularly
You've likely heard the age-old adage: consistency is key. Well, the same goes for social media marketing, particularly on Twitter. It's vital to foster consistency if you're hoping to gain more followers on Twitter for a variety of reasons.
Firstly, one of the key elements prioritized by the Twitter algorithm is recency. By tweeting regularly, you're ensuring that your profile consistently houses recent content that will perform well in the algorithm. Recency is especially important given the fast pace of the Twitter feed and the short lifespan of tweets.
You may wonder how the TikTok algorithm or Facebook algorithm works.
Additionally, tweeting regularly can ensure that your followers have something to look forward to on your account. If you accommodate your followers in this way, you'll likely see an uptick in your average Twitter engagement rate – an important metric for not only gaining new followers but keeping them.
✨ Bonus: Most important social media metrics to track
Tweeting regularly may sound time-consuming, but with the help of social media management tools, it's never been easier. For instance, the Publish module on Sociality.io allows you to seamlessly post content across all your social media accounts. If you're hoping to simply "set it and forget it," then you're in luck. With the Publish module, you can develop automated publishing workflows that conveniently curate your content calendar.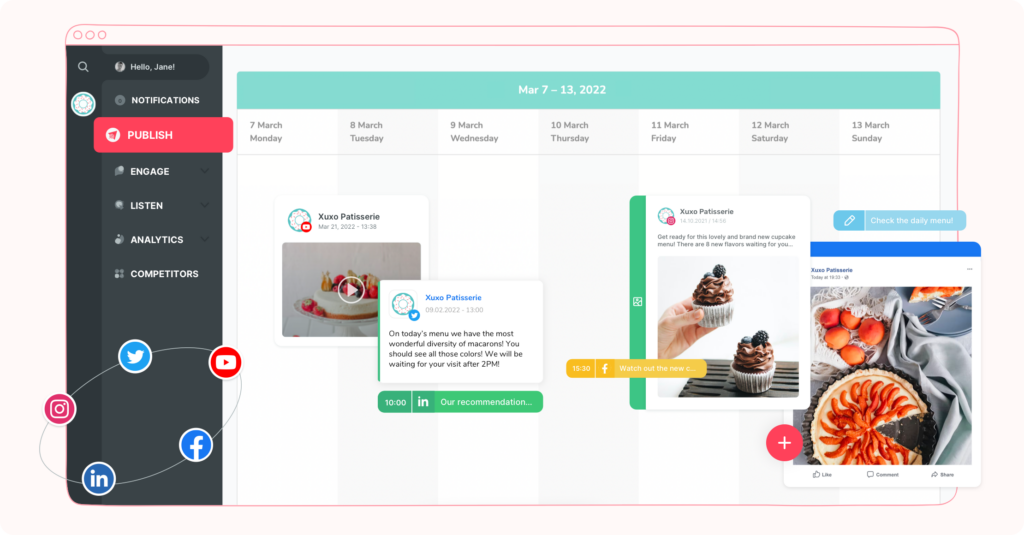 3. Use rich media
The Twitter algorithm prioritizes rich media (i.e. images, videos, gifs, etc.); as a result, Tweets that include these elements tend to perform much better on the platform. Additionally, Twitter users are very visually oriented, with 97% of people reporting that they focus on visuals on Twitter. Therefore, if you incorporate rich media in your Tweets, you'll likely garner more Twitter exposure and get Twitter followers.
That said, it's important to use rich media the right way on Twitter. Get familiar with some of the key do's and don'ts of using rich media on Twitter, including:
Do
Strategically choose fonts
Use templates
Make your photos accessible by writing alt texts
Use illustrations
Don't
Use stock images (if you can avoid it)
Fail to size your photos
Include generic colors or illustrations
🤟🏻 For extra guidance on using rich media on Twitter, check out our ultimate cheat sheet (with image sizes included)!
4. Harness hashtags to broaden your reach
With the help of hashtags, you can broaden the reach of your Tweets, meaning they will be viewed by a larger group of users than those who already follow you. Anyone who searches for that particular hashtag or content related to it will see your Tweet in their feed.
Much like the use of rich media, there is some key do's and don'ts of using hashtags on Twitter. Here are a few to get you started:
Do
Use them consistently
Make them easy to spell and easy to remember
Capitalize on existing hashtags
Incentivize people to use your hashtags
Don't
Use too many hashtags
Use caps lock in your hashtags
Fail to educate your audience on the meaning of your hashtags and why/how to use them
5. Ensure your Tweets offer value
Twitter is all about conversation, so it's important to ensure you're contributing something valuable to this online discourse. Whether it's a Tweet about current events, an upcoming industry event you're hosting, an insightful new blog post, or anything in between, your content must be relevant and useful to your audience.
Some great examples of value-adding Tweets can be found on the Twitter account of Neil Patel, best-selling author and co-founder of organizations like Hello Bar and Crazy Egg. Many of Neil's Tweets include links to recent blog posts offering marketers guidance on practices such as search engine optimization (SEO), content marketing, and marketing strategy.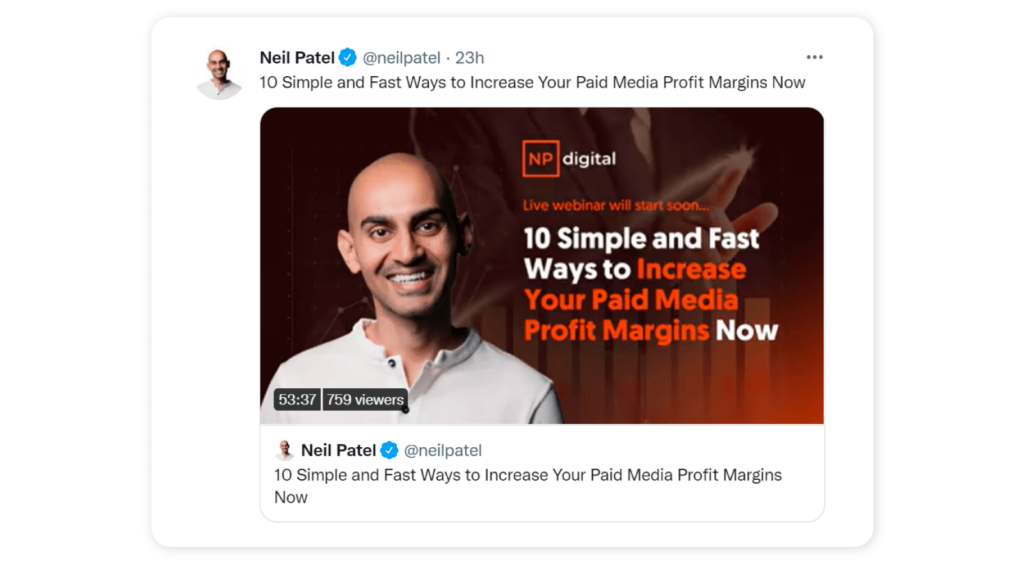 6. Engage with the Twitter community
As we mentioned previously, Twitter is all about discussion; as a result, it's vital to interact with fellow users if you're hoping to get Twitter followers. An excellent place to start is with your current followers (which likely includes members of your customer base), industry stakeholders, and influencers.
There are several ways you can engage with other users' Twitter content, including liking Tweets, replying to mentions of your account, and Retweeting content from other accounts.
The process of interacting with audiences on Twitter can be greatly facilitated by Sociality.io's Engage module. With the help of this function, you can oversee all conversation logs, first reply times, and closing times across your social media accounts. You can even assign certain conversations to specific members of your team by using advanced filters that streamline engagement at the highest level. Not only does this ensure that no communications get lost in the shuffle, but it allows you to assess how effectively and efficiently your team is performing.
7. Assess your Twitter Analytics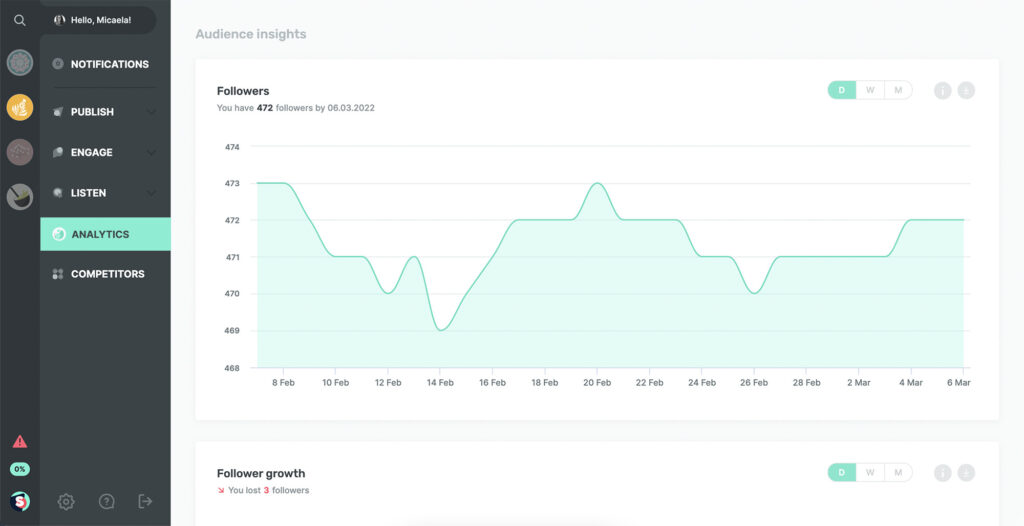 As a social media marketer, you likely know better than anyone that social media analytics are incredibly important – and Twitter Analytics is no exception.
By assessing Twitter Analytics, you'll become more familiar with your audience, including their demographics (i.e. age, gender), behaviors and preferences. With this information, you'll have the capacity to develop more agile marketing strategies to appeal to these audience members and recruit like-minded people to join your follower base.
You'll also be able to see what type of content is performing well with your audience by analyzing your social media metrics such as likes and Retweets. If you notice a spike in positive engagement on a particular Tweet, you can identify what about that content is working well and emulate that in future Tweets.
8. Funnel followers from external platforms
If you're wondering how to get followers on Twitter, why not direct them from your other digital and social media channels? Leveraging your website and broader social media presence – on platforms like Instagram, Facebook, and TikTok – is an excellent way to gain more Twitter followers. For example, consider something as simple as including a Twitter icon and a link to your Twitter account in the footer of your website. Low-cost and low-effort, it's a passive but effective means of directing users to your Twitter profile and encouraging them to follow you.

As seen on Sociality.io, embedding your social media accounts in a website footer is a simple way to drive new followers to these accounts.
9. Optimize your Twitter profile for new followers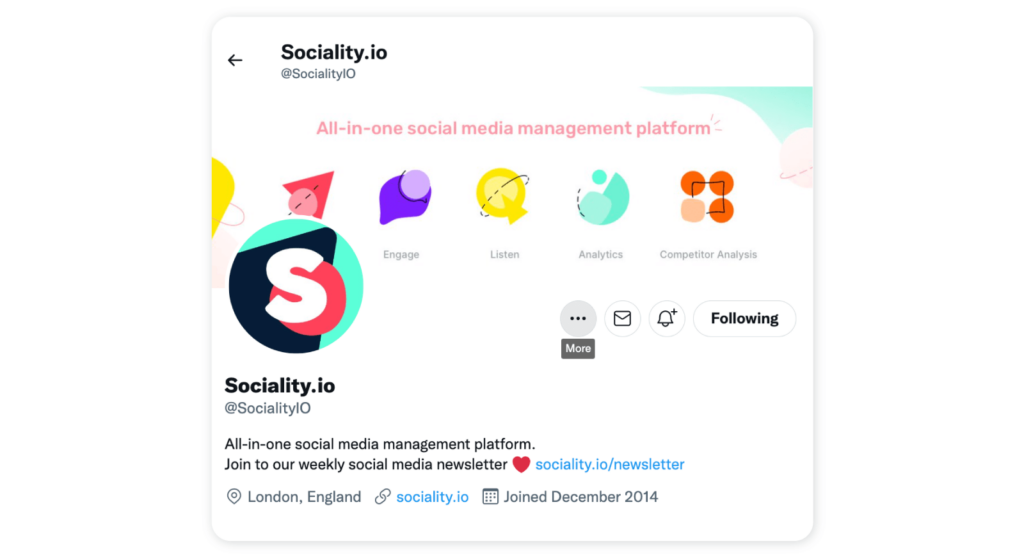 There are a few simple steps you can easily execute to optimize your Twitter account for new followers. Start by creating an appropriate and relevant handle, adding a clear, high-resolution profile picture, and featuring the location of your business.
Your Twitter account should also feature a succinct but informative biography (aka a Twitter bio). Here, you can include tags of any relevant stakeholder accounts, catchy hashtags, and a link to your website.
10. Avoid buying Twitter followers
As a social media marketer, you've likely heard of the practices of buying and selling Twitter followers. Some marketers opt to buy Twitter followers under the mistaken belief that it is a quick and effective way to get Twitter followers. However, the reality is that buying and selling Twitter followers are two social media marketing practices that should be avoided at all costs.
When you buy Twitter followers, there is a lack of authenticity and loyalty. These accounts likely won't interact with or share your content. Additionally, if other users discover that many of your Twitter followers have been bought, they may perceive your brand as being disingenuous. Similarly, buying Twitter followers can hurt your conversion rates because they likely won't ever visit your website or purchase your product.
11. Perform a Twitter audit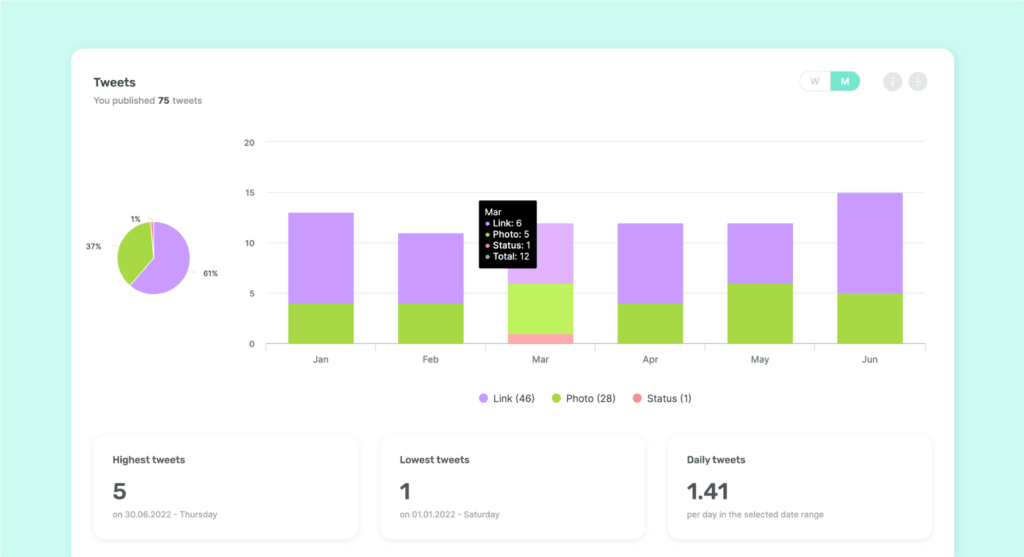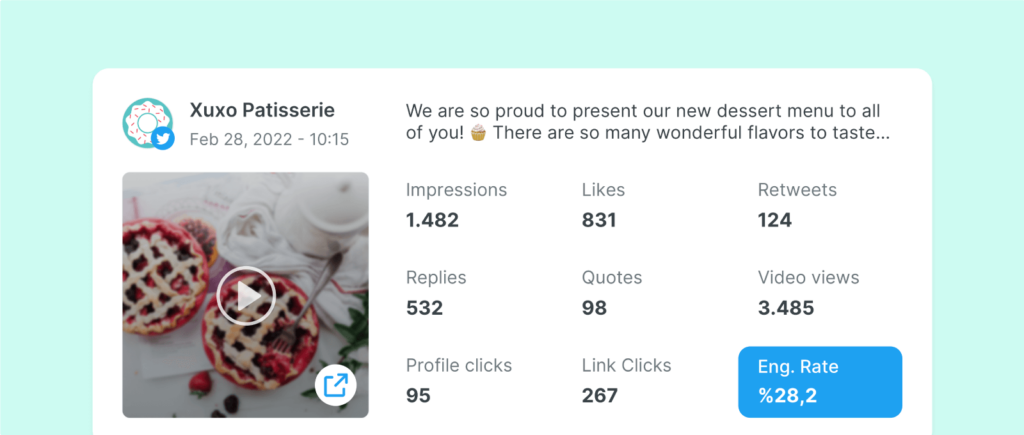 Going hand-in-hand with the previous point, it's essential to not only gain Twitter followers but to gain quality Twitter followers. The best way to assess if you're getting quality followers? By conducting a Twitter audit.
A Twitter audit is a comprehensive check of your account to find any potential issues and determine what's working and what isn't. With the help of a Twitter audit, you can see if your content aligns with your social media marketing objectives, KPIs, and/or your target audience.
Typically, a Twitter audit will include the following:
An audit of your profile
An audit of your tweets (including content type and frequency)
An audit of your followers
In this context, we're focusing especially on the follower audit. By conducting a Twitter audit on your followers, you can identify and analyze the accounts you follow and those that follow you. Additionally, you can and their behaviors and interactions on Twitter (i.e., you can check who follows who on Twitter, who is engaging with whom, etc.). Most importantly, you can examine the growth, quality, and authenticity of your followers while also potentially identifying fake followers. In short, Twitter audits are not only key for growth initiatives but for ongoing Twitter followers management.