Twitter analytics tools to save your social media teams' time
Businesses that want to promote their brands can use Twitter to engage with followers and broaden their exposure. But getting results on Twitter requires a significant time investment — unless you have the right analytics tools. Tracking metrics on Twitter helps you build an effective strategy and save time by posting tweets that are more likely to get engagement, generate leads, and accomplish your goals.
This guide covers seven Twitter analytics tools that will help you gain important insights into your tweets, followers, and presence on the platform.
Social Media News in a Nutshell
Get the latest social media news, insights, and marketing tips in your inbox once a week.
What is Twitter analytics?
Twitter analytics lets you see how well your posts perform on Twitter. These metrics capture insights like how many clicks or retweets posts get if some content is performing better than others, what times of day your followers engage with you the most, and more.
Why should you track your Twitter analytics?
Understanding your content's overall performance on Twitter helps you make better decisions about what to post. Without these insights, you would waste time creating tweets that don't achieve your goals, whether it's generating more leads or broadening exposure.
Checking your Twitter analytics can help you:
Get to know your audience — and their preferences — better
Receive important information on your top-performing tweets
Track follower engagement and growth
Learn more about profile visits
Identify when others mention your brand
What can you track with Twitter analytics tools?
When searching for the right Twitter analytics tool for your social media team, ensure it tracks the following metrics:
Engagement rate: Your Twitter engagement rate covers retweets, follows, replies, and favorites. You can calculate the engagement rate of a single tweet as the number of engagements divided by the number of impressions.
Impressions: Impressions tell you how many people are setting eyes on your tweets. More specifically, it's how many times a tweet appears on the timeline of a user, and it's not limited to followers only. One quick thing to note is the difference between reach and impressions. Impressions count the number of times content is simply exposed to users whereas reach counts the number of times users saw your content and clicked on it. Impressions count all views; reach only counts views by unique users. Both metrics are important for accurately gauging your Twitter analytics.
Video completion rate: If you post videos on Twitter, then you need insights about those posts too! Video completion rate measures how many people who clicked on a Tweet with a video actually finished the entire thing.
Tweet activity: Your analytics tool should track tweet date ranges and activity of specific tweets. This metric lets you look at your highest-performing tweets and see when you published them.
Followers: You need insights about your followers to determine if your content is connecting with your target audience. Audience type metrics let you see the interests, demographics, and gender of your followers and those who interact most with your profile.
Twitter ads: If you use paid ads on Twitter, your analytics tool should also help you track their performance.
✨ You may be interested in: Everything you need to know about TikTok & its Ads offerings
Choose a tool with automated reports full of info you need
Providing you with all the above metrics won't be beneficial unless you have automated reporting. Gathering all this data takes time if you do it manually, and you and your team could spend that time creating better Twitter content instead.
7 best Twitter analytics tools
Sociality.io

Sociality.io has powerful reporting features, letting you gather the data you need and export in just a few clicks. Get reports instantly in either PPT or Excel format and better understand your Twitter performance with a detailed reach and engagement analysis for your account. If you are an agency handling multiple Twitter accounts for clients, you can create an unlimited number of reports for each profile, within any date range. You can even create a reporting template that allows you to extract only the data you want, and add your logo so you can send it to clients. With Sociality's sophisticated Twitter analytics features, you can analyze your content and even benchmark competitors' Twitter performance.
The Twitter metrics you have access to with Sociality.io's reports include:
Post frequency
Engagement rate
Follower growth
Number of followers
Post types
Total number of interactions
Interaction types
Day and time for posts
Pricing
Pro: $99 per month for 1 user and 10 social profiles
Business: $199 per month for unlimited users and 15 social profiles
Enterprise plan available for customization
Native Twitter analytics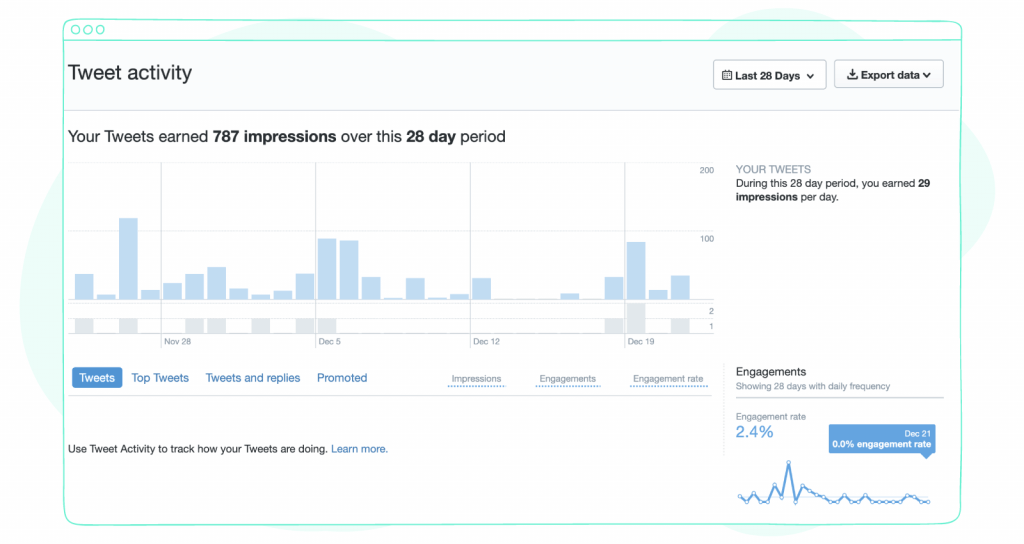 If you have a Twitter account, you already have access to a powerful analytics tool. Twitter's native analytics feature lets you start gauging metrics and get insights on content performance without having to invest in a new tool. You can access a summary of your tweets, impressions, profile visits, mentions, and other basic statistics for one-month intervals.
Pros
Free
Easy to use
Integrated with Twitter
Cons
Lacks some advanced features
Time periods limited to one-month
Pricing
Free with your Twitter account
Followerwonk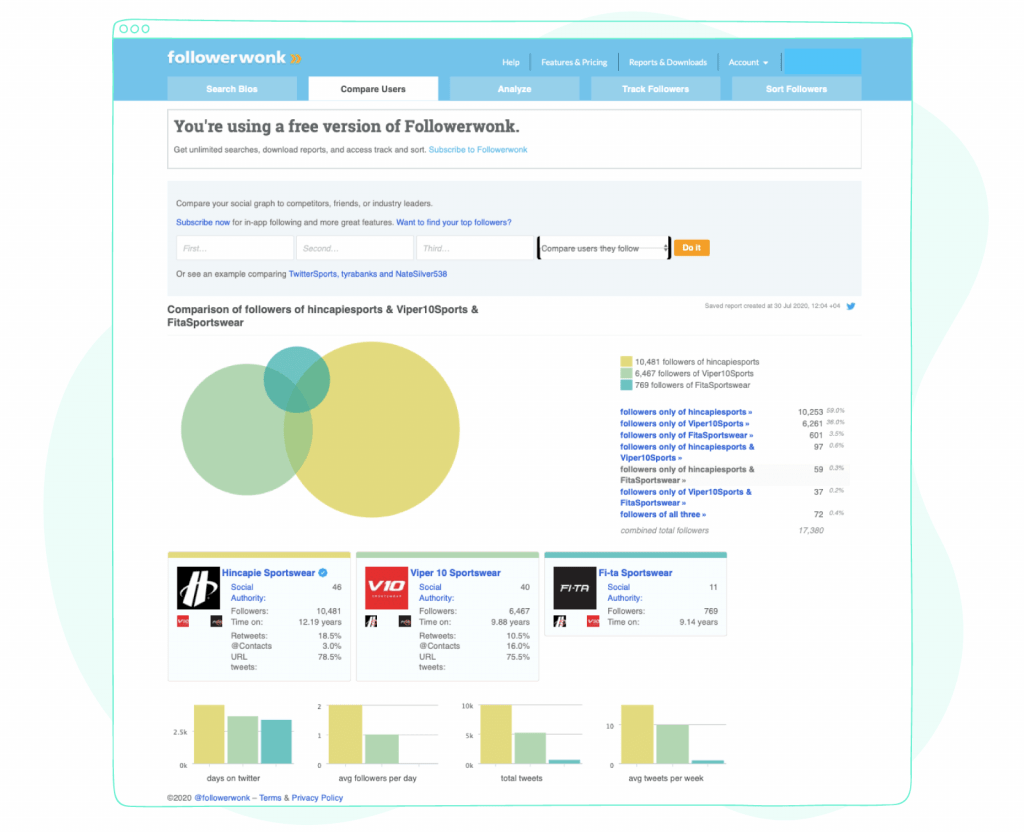 Followerwonk is an analysis tool made specifically for Twitter. It lets you deep-dive into follower demographics so you can tell if your tweets are reaching the right audience. It's also a great tool for doing competitor research, as it lets you look at in-depth follower demographics for other Twitter accounts too.
Pros
Filter for highest-performing tweets
Search Twitter bios
Pinpoint activities that caused loss or gain of followers
Cons
Free version for only one profile with limited features
Only available for Twitter
Pricing
Free forever: 1 profile with limited features
Target: $29 per month for up to 3 profiles
Multitask: $79 per month for up to 20 profiles
Listen by Brandwatch (formerly Union Metrics)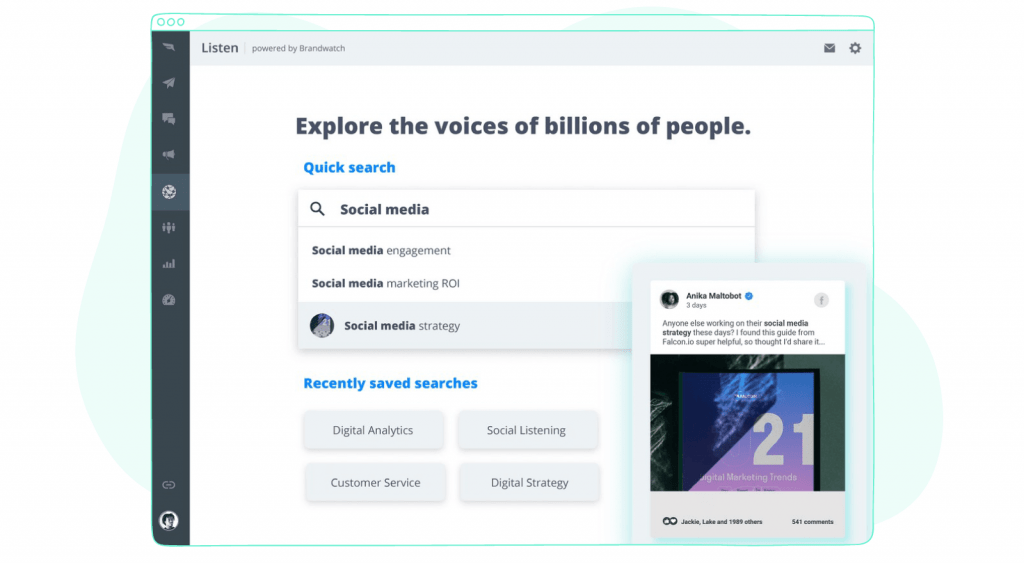 Union Metrics was recently rebranded as Listen by Brandwatch; both Union Metrics and Brandwatch are Cision products. Listen has many of the same features as Union Metrics, however. As the name implies, it's a listening tool that lets you track Twitter analytics as well as gives you an overview of your profile and competitor analysis tools. Some of the tools are free to use, including analyses of reach, impressions, and macro and micro-influencers. Listen also allows you to look at content from your followers that pertains to your brand.
Pros
Tracking reports are easy to set up
See top contributors and hashtags around your brand
Keyword tracking
Cons
Pricing
Essentials: $108 per month
Full Suite plan available
Keyhole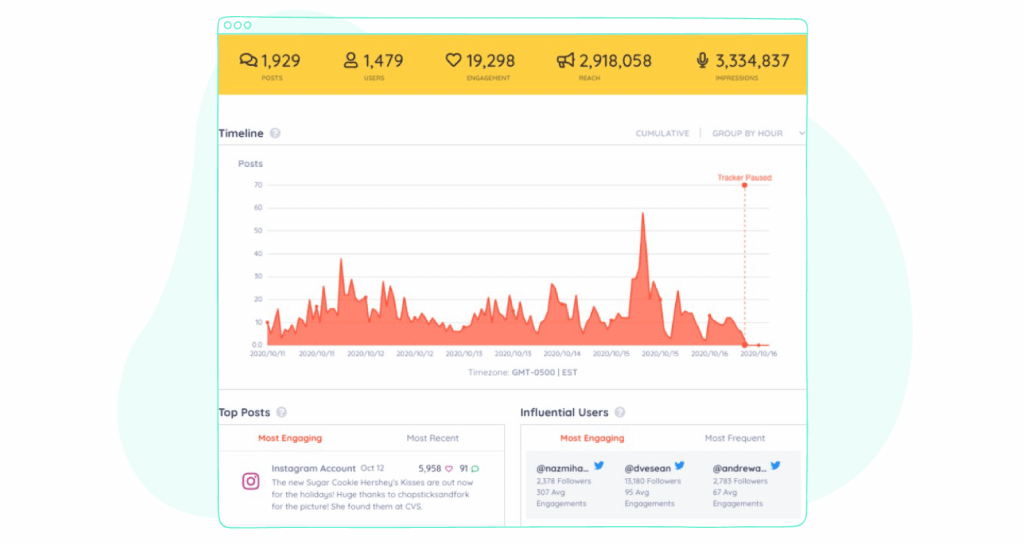 Keyhole is an analytics app that lets you track discussions around particular topics by monitoring hashtags. It is one of the best sentiment analysis tools that also gives you a sense of what people think of your brand, as well as insightful demographic information about Twitter users who are talking about you. Keyhole even tracks the times you posted top-performing tweets and recommends an optimal posting time for you.
Pros
Twitter competitor analysis tools
User-friendly
Ability to find outside web mentions of your brand
Cons
Pricing plans aren't flexible
Limitations on the number of hashtags to track
Pricing
Basic: $49 per month
Plus: $99 per month
Professional: $199 per month
Enterprise: Custom pricing
Vaizle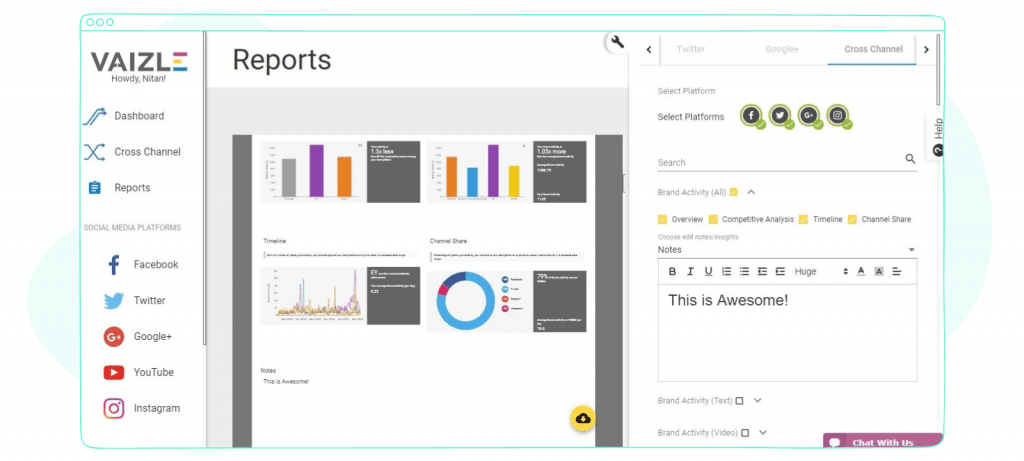 With the Vaizle analytics tool, you can analyze up to six months of data history, post-performance, competitor benchmarks, and more. All reports are customizable and you can even white-label them so they're ready for clients. Vaizle also does hashtag analysis and lets you carry out an audit of your brand. You can also use the free Vaizle analytics tool to gauge how well you're doing on Twitter.
Pros
Analyze your clients' progress on Twitter without needing their credentials
Attractive interface
Provides a ton of data
Cons
Some errors on customized reports
Set up can be too technical
Pricing
Smart plan: $10 per month
Growth plan: $69 per month
Tweepsmap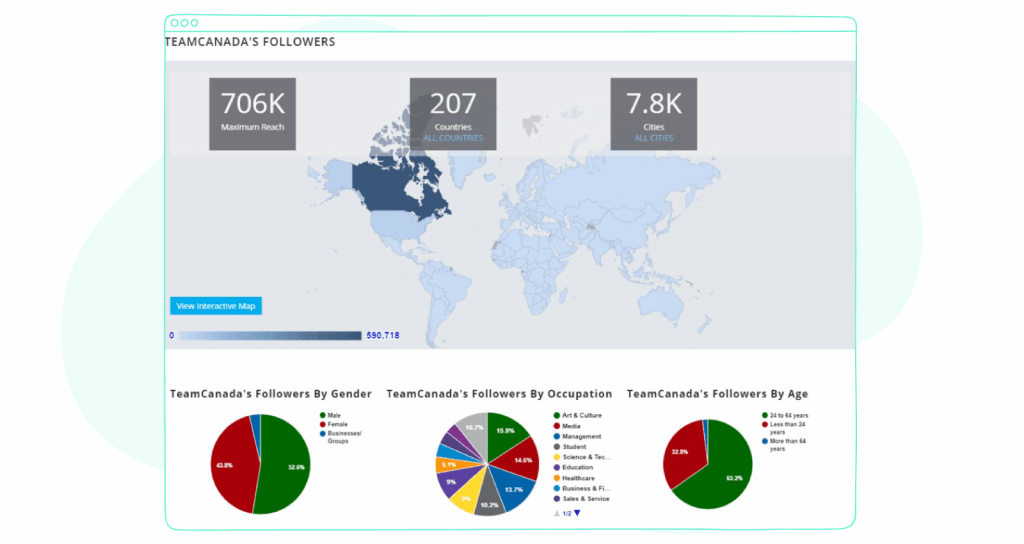 Tweepsmap provides deep insights into your brand's Twitter community and lets you segment users based on demographics. With a follower-based approach to Twitter analytics, Tweepsmap shows you how many followers you lose or gain and helps you identify your most influential followers.
Pros
Robust follower demographics for razor-focused campaigns
Excellent customer support
Comprehensive maps of your audience
Cons
Not so intuitive
No mobile app
Pricing
Free forever plan with limited features
Starter: $7 per month for up to 1 account
Growth: $15 per month for up to 3 accounts
Advanced: $29 per month for up to 4 accounts
Enterprise plans available
Making the most of Twitter analytics
Tracking metrics on Twitter helps you better understand your presence on the platform, which allows you to devise a better strategy for growth and brand exposure. By using one of the analytics listed here, you can start making the wealth of Twitter data you have work for you.
Better to look at 👉 Reasons why you should stop measuring social media vanity metrics