Earlier, we talked about Hootsuite and 5 alternatives to it. We included Buffer as one of them. But the Buffer vs Hootsuite question-battle couldn't go unnoticed.

So, what are the main considerations when it comes to choosing either of these social media scheduling tools?

Here are the top differences between Buffer and Hootsuite you should know.

Pricing plan

Admit it – before checking the features, you first have a look at the pricing plans. We've all been there. This is why unlike other articles where the pricing is at the end of the page, we will mention it at the beginning.

Let's compare Hootsuite and Buffer pricing plans to know who does a good job in this competition. Also, it's not just a matter of competition but a matter of care – how does the platform try to keep the user satisfied? How do they convince you to take your card out of your wallet and make a payment?

While checking the pricing plans of any social media management tool, keep in mind that most of them have a hidden cost. So make sure you are not paying for more than the features you need.

Hootsuite

Hootsuite is pricey compared with Buffer.
Professional plan – $19 per month. In return, you get unlimited scheduling for 10 social media profiles for one user.

Team – $99 per month. Unlimited scheduling like in personal plan, 20 social media profiles, and 3 users.

Business – $599 per month. Instead of 20 social media profiles, this plan offers 35. 5-10 users and, of course, unlimited scheduling.

Enterprise – this is a custom solution based on your needs. You need to contact the team to get the details.
Buffer

As compared with Hootsuite, Buffer pricing plans are more affordable and are "no per user". But unlike Hootsuite, Buffer scheduling is limited and starts from 100 posts per social account.

Pro – $15 per month. The basics are – 100 scheduled posts per social account. You can post to 8 social accounts. The number of users – one.

Premium – $65 per month. The main difference from the Pro plan is the number of scheduled posts – 2000 instead of 100, 2 users instead of one. The number of social accounts is the same – 8.

Small Business – $99 per month. Unlike Pro and Premium plans, this one lets you connect to 25 social accounts. The number of scheduled posts is the same as in Premium – 2000. But this plan lets you have 6 users, not 2.

Medium Business – $199 per month. Offers – 50 social accounts, 11 users and the same scheduled posts as in Premium and Small Business plans – 2000

Additionally, if billed annually, you get a 20% discount.

When it comes to choosing either of these social media management platforms, the pricing plans are important but not the primary aspect of making a final decision. However, knowing that the tool offers either a free plan or the basic plan is really affordable, makes you think the platform is well-thought for your needs.
Ease of use
The overall impressions from Buffer and Hootsuite and how easy is it to get started with these social media management platforms.

Buffer
Buffer homepage is pretty simple. With just several scrolls, you can understand what services the platform offers. The browser extensions and Android, iOS apps make Buffer even simpler to use. Nowadays, accessibility and ease of use should be top priorities and Buffer handles both very effectively.

When you head to Buffer dashboard, everything is pretty simple and clear. You might not like the setup procedure – choosing the channels, changing the time zone, etc. But Buffer made the onboarding process as easy as possible.

Additionally, no credit card information is required if you want to get started with Buffer.

Hootsuite
Right after typing your full name, email and a new password, you are redirected to a page requiring you to write your billing information.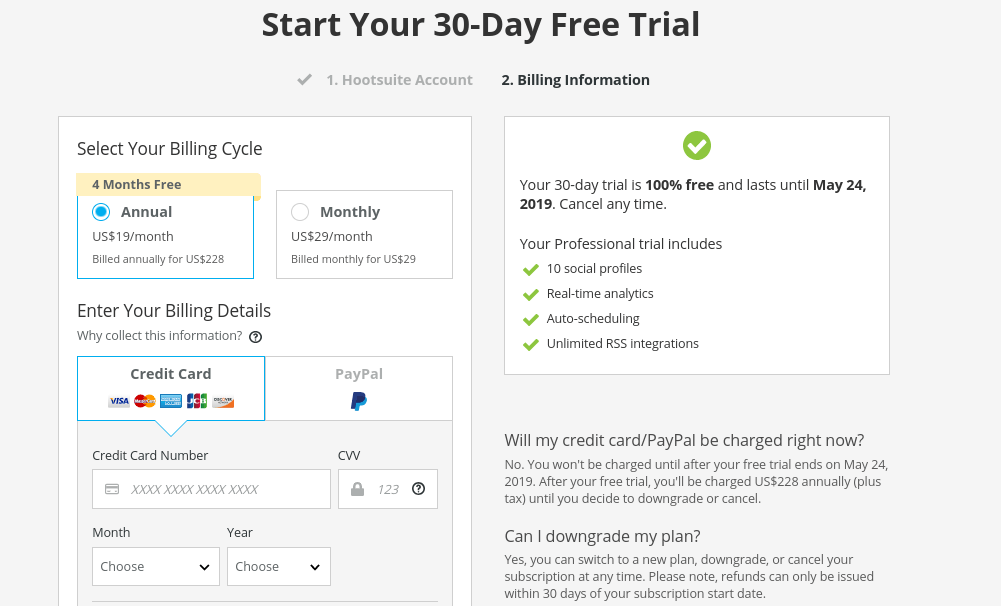 Of course, if Hootsuite is your final decision, you will be willing to fill your credit card information and payment method. But if you are in your consideration stage and want to register for a free trial, you would be cautious to give away any financial information.

So right from the registration stage, you get the wrong feeling – is the billing cycle more important than your experience with Hootsuite? What seems more important for their team?
At this stage of Buffer VS Hootsuite game, Buffer won the second point.
Bonus: Scheduling Alternatives to Hootsuite and Buffer
Key Features
Now it's time to compare the most important aspect for choosing a social media management tool – the features. Let's see what each of these platforms can offer.

Buffer
Here Buffer is weaker than Hootsuite – when you browse Buffer pricing plan to check what features you get and which plan is worth purchasing.

You notice the offered features for Premium, Small Business, and Medium Business are almost the same. According to their plan description, the only change in these three plans is the number of users – 2, 6, 11 respectively.

The features seem to be basic for scheduling. They concentrate more on the ease of use than the features.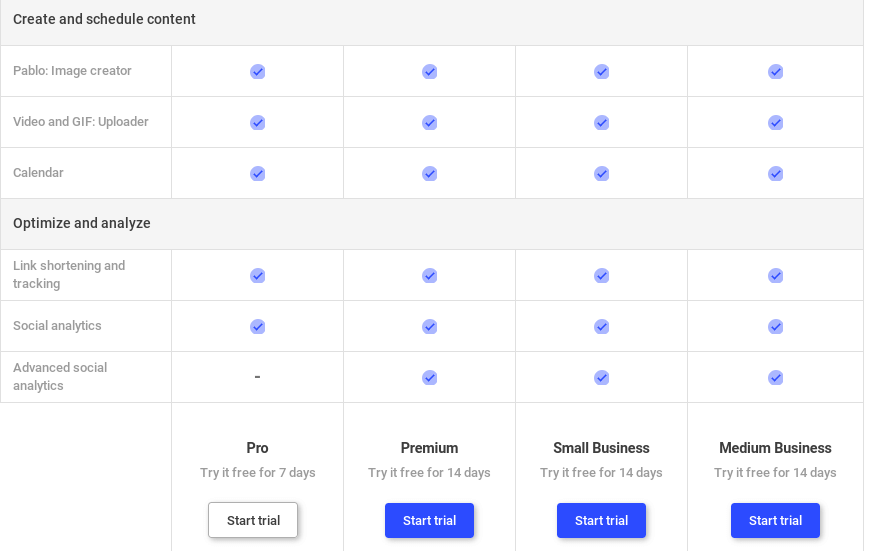 Hootsuite
Apart from basic scheduling, Hootsuite offers key performance metrics and ad spends limits to boost posts. As the pricing plan changes, new features add up, making you choose as many great features as possible.

This section is for Hootsuite to win. If, of course, you can afford to spend that much on a social media management tool.
Bonus: Top 7 Social Media Community Management Tools in 2020
Conversation Management
Social media is a communication platform so you would like to connect with your audience by using your social media management tool. When it comes to Hootsuite, it allows you to customize your own dashboard and also provides you a tab with a column to manage and reply to your messages, mentions, and comments from one panel.
Buffer, on the other side, seems more limited in terms of interacting with your followers as you used to pay for a different app, called Buffer reply, to monitor and reply to the comments you received but it's not available anymore since May 2020.
In this respect, Hootsuite is superior to Buffer if you manage numerous social media accounts and would like to engage with your followers.
Who wins the battle?
Hootsuite is the best fit for enterprise use as it's pricey and bigger companies are more likely to be able to afford it.
Bonus: Alternative to Hootsuite

Buffer features are gaining popularity in all three plans. It's available for solo and big company use.

Bonus: Alternative to Buffer
If you are still considering whether you should go with Buffer or Hootsuite, there are some other social media management platforms trying to win your attention.

Sociality.io, for example, has a customized pricing plan which is suitable both for solo and enterprise use. So even if you are a kind of person who checks the pricing and then the features, you will certainly stick with this social media management tool. And the reason is obvious – features will meet your needs the pricing will not hinder you from choosing this social media management tool.