What defines the role of a social media analyst? 7 Key skills
Every new week, marketers are churning out campaigns on social media with the hopes of hitting certain key performance indicators (KPIs). These campaigns come back with boatloads of data.
Often, the climax of all of this data is to measure the success or failure of a campaign, and then it's banished into the data archives. To put this mildly, it's like using a sports car to drive to the grocery store and back. That's how it looks when you underutilize social media data.
The role of a social media analyst is to go beyond just those KPIs. They take a closer look at all those data points to unearth more actionable insights that can help marketers understand the how and why of a campaign's success or failure. With their expert analysis, they can provide direction on how to improve not just social media campaigns but also the overall social media strategy.
Want to know what skills are needed to gain such mastery over data and how those skills directly affect your work as a social media analyst in a company?
Then, let's get right into it.
Social Media News in a Nutshell
Get the latest social media news, insights, and marketing tips in your inbox once a week.
Who is a social media analyst?
A social media analyst is someone who specializes in analyzing social media data to identify patterns and trends. They use this data to understand the why and how of a campaign's success or failure.
A social media data analyst might also be responsible for developing strategies for how a company can best use social media to achieve its goals.
Responsibilities of a social media analyst
The responsibilities of a social media analyst can vary depending on where they work. It's possible to find a social media manager performing this role in a relatively small company.
Due to these nuances, we pored through dozens of social media analyst job descriptions to pick out recurring duties or responsibilities. Here are what we found:
Collect and analyze data/post metrics from different social media platforms
Monitor social media platforms and how new updates or features can impact audience behavior or content performance
Research target audiences and collaborate with the marketing/social media team to develop effective strategies
Create reports and presentations to communicate findings with the appropriate people and teams in the company
One interesting thing we observed in our search was that knowledge of Search Engine Optimisation(SEO) best practices popped up in a couple of job descriptions. It seems social media analysts are now expected to have basic SEO knowledge, also.
What is the difference between a social media analyst and a social media manager?
The main difference is that while a social media analyst focuses on analyzing social media data, a social media manager focuses on managing and executing social media campaigns. The analyst also provides insights that can help social media managers create more effective campaigns.
7 key skills of in-demand social media analyst and how to develop them
These are the key skills you need to excel as a social media analyst. They are skills that will make you in demand and allow you to perform your duties effectively.
We have also provided resources for each of these skills so you can start developing them immediately.
1. Proficiency in data analysis and interpretation
If you want to be taken seriously as a social media analyst, you must know your way around a spreadsheet application.
Excel is the most popular spreadsheet application, but there are other options like Google Sheets, Apple Numbers, etc. No matter which application you are more comfortable with, you must know how to perform basic to intermediate-level tasks in any of them.
Here's what Flynn Zaiger, CEO of Online Optimism, has to say about this:
"Spreadsheet smarts is the number one skill that we look for when making social media analysis hires. While platforms like Meta and TikTok do provide dashboards and resources for analyzing their information on-platform, you can often do far more complex calculations in a spreadsheet like Google Sheets or Microsoft Excel. Social media professionals will often export their data from the platform and into these software suites to build things like pivot tables, or otherwise implement this data in their templates".
He also shared their approach to social media data analysis at Online Optimism:
"At Online Optimism, we have complex spreadsheets built for each client that automatically allows our staff to input the data from social networks to see how their content is performing weekly or monthly to determine trends and future strategies".
You should be able to collect data from various sources and understand and analyze them to find actionable insights you can and should recommend to your company or client. This is the crux of your work.
You would also need to get comfortable with social media platforms' house analytics tools and third-party social media analytics tools to pull all relevant social data relating to channel and content performance.
Resources:
Blog articles on social media analytics
Ben Collins' free and paid Google Sheets resources
Applying data analytics in marketing from Coursera
2. Data storytelling 
While you can sit with an excel sheet full of data for hours, some others don't share that level of passion and love for numbers. Unfortunately, some of these people are stakeholders you must convince, or all of your data mining efforts go to waste.
Simply put, data storytelling is the skill of using data to craft a narrative to influence and inform a particular audience. A good data storyteller would use data presentation tools and techniques to engage people and help people see the bigger picture.
It's a good way to bypass people's lack of interest or technical knowledge with data and present information in an easy-to-digest format.
Resources:
How to tell a story with data by ThoughtSpot
How to Tell a Story With Data: A Guide for Beginners by Venngage
Telling stories with data in 3 steps from Harvard Business Review
3. Social media research
Your job as an analyst is largely dependent on your understanding of social media platforms and their impact on audience behavior. On the one hand, having a working knowledge of how popular social media platforms work will allow you to collect and analyze data from these platforms effectively. You would know where to look. It would also allow you to develop strategies that take advantage of platform features to achieve your objectives.
On the other hand, understanding your audience's behavior on these platforms would allow you to apply the right filters while interpreting your data. It would also help you develop strategies that better address their needs and wants and result in better engagements and conversions.
"Asking good questions is the most important skill in social media analysis. Social media users are not always conscious of what they're saying or doing, so it's important for analysts to listen and understand their needs. This doesn't mean just listening passively; analysts should also be actively looking for opportunities to help their clients improve their social media presence".
Says Lisa Richards, CEO of Candida Diet.
Arthur Worsley, the founder of Art of Living, also shares a similar position
"Superior research skills are critical to understanding the audience you're trying to reach and what forms of messaging they are most receptive to. It's also critical that you have a desire to constantly learn new things, as this will help you keep up with trends and rapid developments in social media analysis and technology".
As a social media analyst, you will be required to research and find new social media platforms or tools that can benefit your company. To do this effectively, you must have excellent research skills. This will come in handy when you have to sift through the overwhelming amount of resources on the internet.
Most of your research on social media should include social media platform updates and features, target audience behavior on social media, competitor strategies on social media, social media tools, and resources.
Will Yang, head of growth at Instrumentl, sums it all up best:
Some of the most required skills in social media analysis are understanding the medium and being able to understand the audience.
Understanding the medium means knowing how to use it better than anyone else around you. You should be able to use all of the features at your disposal, and you should be able to integrate them into your work so that it doesn't look like a bunch of disparate pieces put together by someone who is just learning how to use them.
Understanding your audience means knowing what they want and need and being able to give it to them in an authentic way. You can't just implement a strategy and expect it to work—you have to understand who you're talking to, what they want from you, and how they'll react when they get what they want from you.
Resources:
4. Marketing knowledge 
A social media analyst is required to work closely with the marketing team to develop strategies that will effectively reach and engage their target audiences. As such, you need a basic understanding of marketing concepts, methods, and tools.
While you might not be required to develop marketing strategies, understanding how marketing works would help you analyze data better and offer more insights that can be useful to the marketing team.
Some of the marketing concepts and tools you should be familiar with include the following:
Your company's marketing mix (4Ps: Product, Price, Place, Promotion) and how it affects your target audience
The various marketing channels (offline and online) that are available to reach and engage target audiences
How to measure marketing success and performance (KPIs)
Google Analytics: track user engagement and behavior data, identify traffic sources, and track sales funnels.
Resources:
5. Communication and Collaboration 
As I mentioned earlier, your work as a social media analyst often requires you to work with other people. This includes the marketing team, social media managers, stakeholders, sales team, and many others. To get your work done and to get your point across, you need excellent communication and collaboration skills. The ability to communicate with people in a clear and precise manner is a valuable skill every social media analyst needs.
You should also be able to adjust your language and tone to suit your audience. After all, you will be dealing with different types of people with different levels of technical understanding. So being able to simplify complex ideas and explain them in layman's terms is a must. Employees should be able to understand you. If you're communicating with clients, make sure the language you're using is industry-specific and jargon-free.
Resources:
6. Creativity and critical thinking 
I lumped these two skills together because they are quite similar and often lead to unique, novel ideas or methods. As a social media analyst, you must have the ability to experiment with different ideas, think outside the box, and find unorthodox solutions to complex problems.
This is especially important when you have to develop social media strategies, report and present your findings, or even when you have to find creative ways to engage your audience. You should be able to see beyond surface-level data and identify the right opportunities for your brand.
"Consistent creative output is key for social media analysis. Most folks can come up with creative ideas every once in a while, but performing social media analysis as your job requires you to be creative every day you're at work".
Says Flynn
Creativity and critical thinking can also be seen in your data analysis and interpretation. It would help you go beyond the surface-level findings and spot interesting and valuable insights that can be used to improve social media performance or create new strategies.
Some ways to be more creative and think critically are: getting inspiration from other industries and fields, taking on different perspectives, and embracing change and new ideas.
Resources:
7. Organization
Your job requires that data meets you in its raw, unorganized form, and it's your job to sieve through this data to come up with meaningful information. Analyzing social media data can be overwhelming, especially when you're just starting. There is just so much data to sift through, and it can be tempting to go down a rabbit hole. But as a social media analyst, you must be able to organize your thoughts and manage your time efficiently so you can focus on the task at hand and deliver results on time. Without taking control of your workflow, you will be a victim of information overload (or, in this case, data overload).
The organization is also important when you're working on long-term projects or when you're managing multiple social media profiles at a go. Being well-organized will help you keep track of the various tasks you have to do, identify priorities and make sure you meet deadlines.
Resources:
How much do social media analysts make?
Most major US employment sites report the average base salary of a social media analyst to be around $60,000/year. You can get a more specific report that considers your skill level and years of experience here.
Sociality.io: The right tool for social media analysts
Sociality.io is an all-in-one social media management tool for marketing teams of all sizes. It's not just another scheduling tool; it's a great tool for social media analysts. Here are some features that can help social media analysts to help you save significant time and create an efficient working workflow. Features great for:
Sociality.io helps you find meaning in data scattered across all your social media channels. Using our advanced search filters, you can filter out the precise data you need and not get yourself into a rabbit hole full of unnecessary metrics. You can also visualize all of these data to cater to all learning styles and export these data graphics in png, jpeg, and pdf format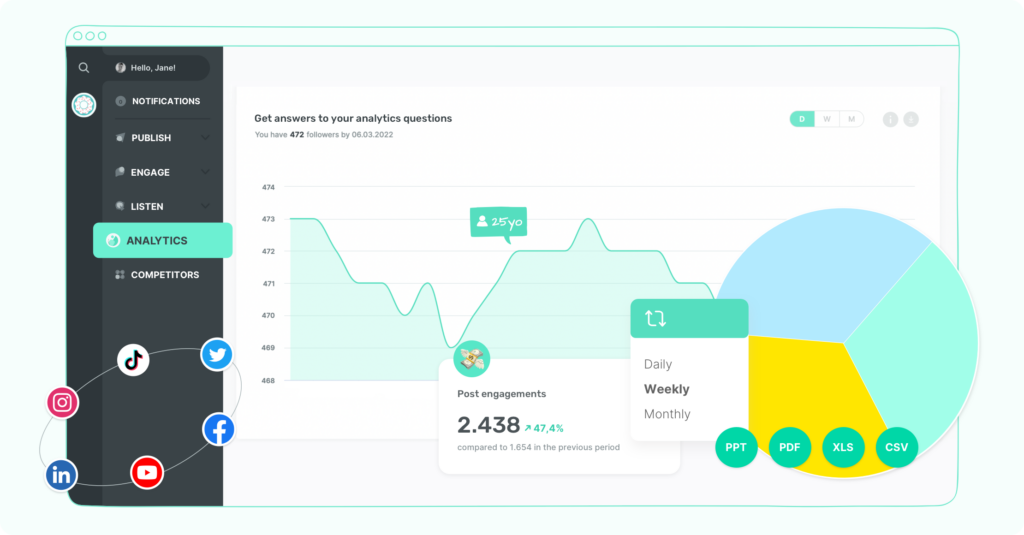 This tool helps you keep track of relevant conversations about your brand in different languages. It gathers every comment or mentions about your brand (even outside social media platforms) into one inbox, making monitoring every thought and opinion about your brand easier. You also have the option of analyzing the sentiments behind each of these comments.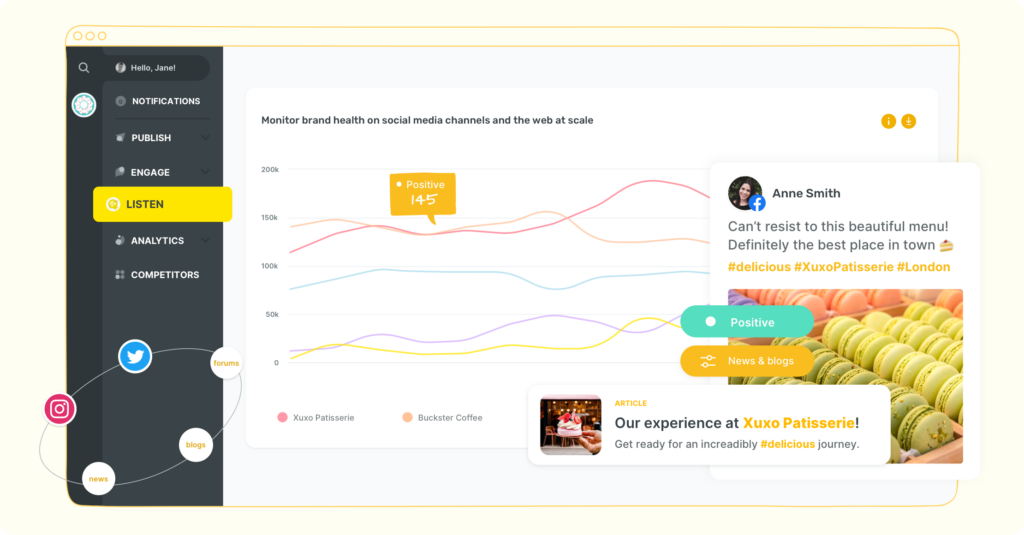 Sociality.io also has a word cloud feature that lets you see the terms people associate with your brand and use these insights to inform your marketing strategies.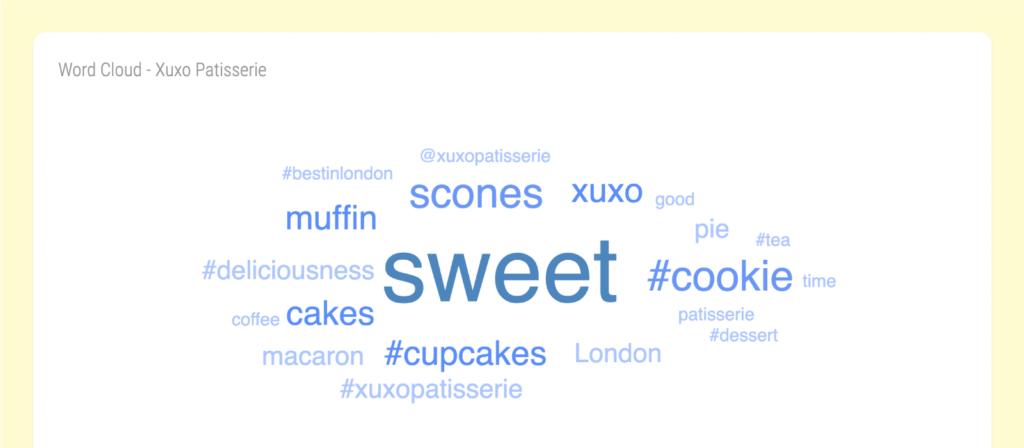 It's difficult to know how well your brand is doing on social media without benchmarking your performance against your competitors. With Sociality.io, you can compare up to 15 competitors simultaneously, discover their top-performing content and extract important metrics for you.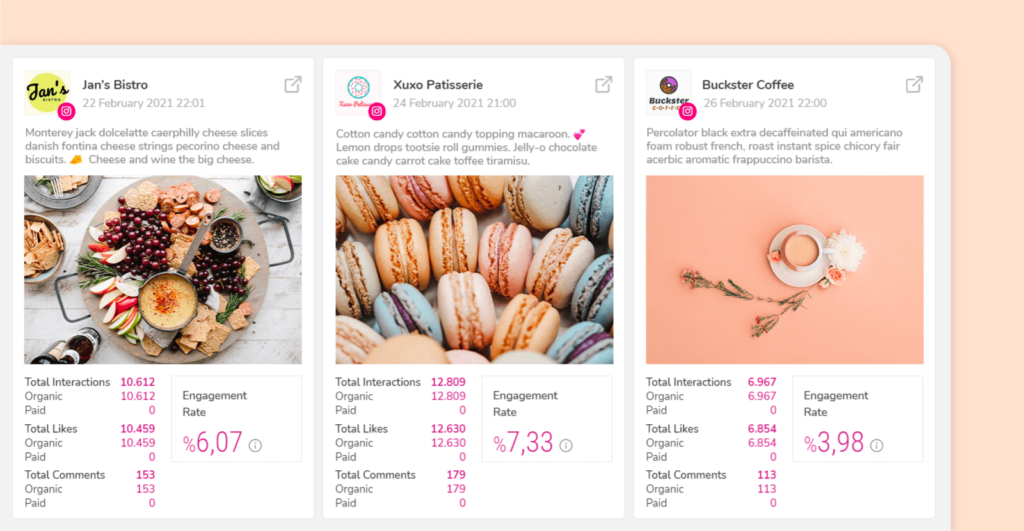 You don't have to scroll through all your competitor's pages to find their best-performing content; you can do that with a few clicks. That way, you are benchmarking based on accurate data and not just instinct. This also lets you know what works for your audience and predict how your audience would likely respond to certain strategies.
Scheduled reports
The tool gathers all of your cross-channel data into one analytics report in EXCEL, PPT, or PDF formats. You can schedule automatic reports of your social media channels and have them delivered to your inbox or directly into stakeholders' inboxes.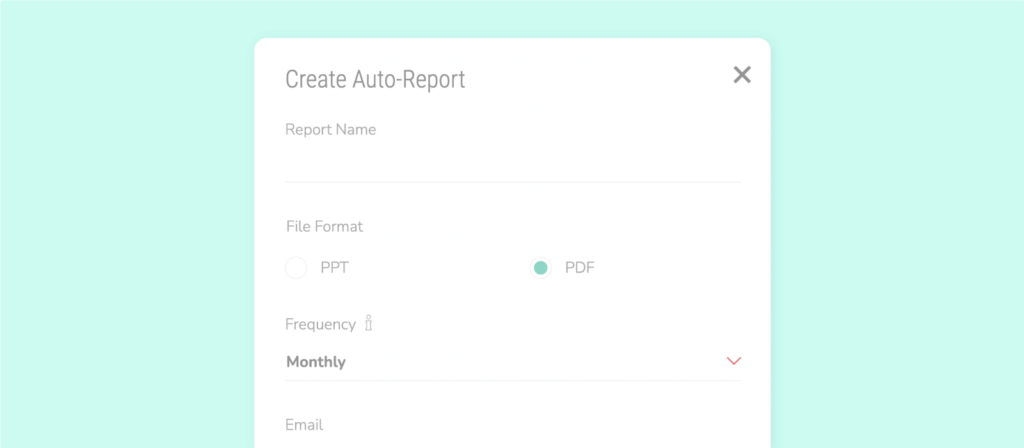 Ready to enjoy a seamless workflow? Try out our free 14-day trial.
Now it's time to prove your worth
Just like in any job, you have to prove to your bosses that you have a direct impact on the growth of a business, or else you risk being considered dispensable, especially considering some companies feel social media managers can perform your duties effectively.
You don't need to have all of these skills in the bag while starting, but you must continue developing your skills as you go on in your career. Take advantage of the resources listed in these articles to become a better social media analyst. And don't forget always to document your wins and achievements within a company, so when (or if) the day of reckoning comes, you can easily prove your mettle to people that matter within the company.