A step by step guide on using Facebook Insights for competitor analysis
Competition is fierce on Facebook, millions of companies fight to get noticed on as many people's overflowing newsfeeds as possible. Thankfully, Facebook's Insights tool makes it easier to keep an eye on what you're competitors are up to on the platform. This is why we created this step-by-step guide on using Facebook Insights for social media competitor analysis so you can stay on top of your game.
Better understand your target audience: You can study your competitors' Facebook following not only to improve your understanding of your audience but also to see whether your expectations match with reality. Maybe you missed an important demographic that actively engages with a competitor brand on Facebook, or just missed an important interest that can help you to connect with your target audience.
Monitor essential KPIs: Do your post get less engagement recently? Is it just your brand or is it seasonal and your competitors are experiencing the same issue? Facebook's Insights will help you answer these types of KPI-related questions.
Study what works and what doesn't in your market: Experimenting costs money and time, duh! By analyzing your competitors on Facebook you can learn from their mistakes and minimize yours when trying out new campaigns.
Compare your page performance to other players': Studying your competitors' content and the engagement they receive on their campaigns. If you're comparing your page to a much larger competitor's page you will get a better idea of what you need to aim for and can use the previous point to learn how to achieve it.
Keep up with market trends: Whether there's a fun social media challenge or a holiday deal you're competitors are taking a part in; by keeping an eye, you will not miss out on these fun events and opportunities. You can even check on previous competitors' activities your competitors to prepare for the next one beforehand or use it as an inspiration. 
Learn from Facebook Superstars: You can use the Insights not only to track your direct competitors but also to other companies that might not be related to your brand but bring their A-game to Facebook.
Social Media News in a Nutshell
Get the latest social media news, insights, and marketing tips in your inbox once a week.
Getting to Know Facebook's Insights Interface
Step 1: Add pages to follow
To add pages to follow on Facebook, go to Insights, which you can find on the sidebar if you are using the new 2020 Facebook updated design. Once in the Insights dashboard Overview, scroll down to the bottom and you will see the "Pages to Follow" section. You can add your competitor pages by clicking on the "Add Pages" button.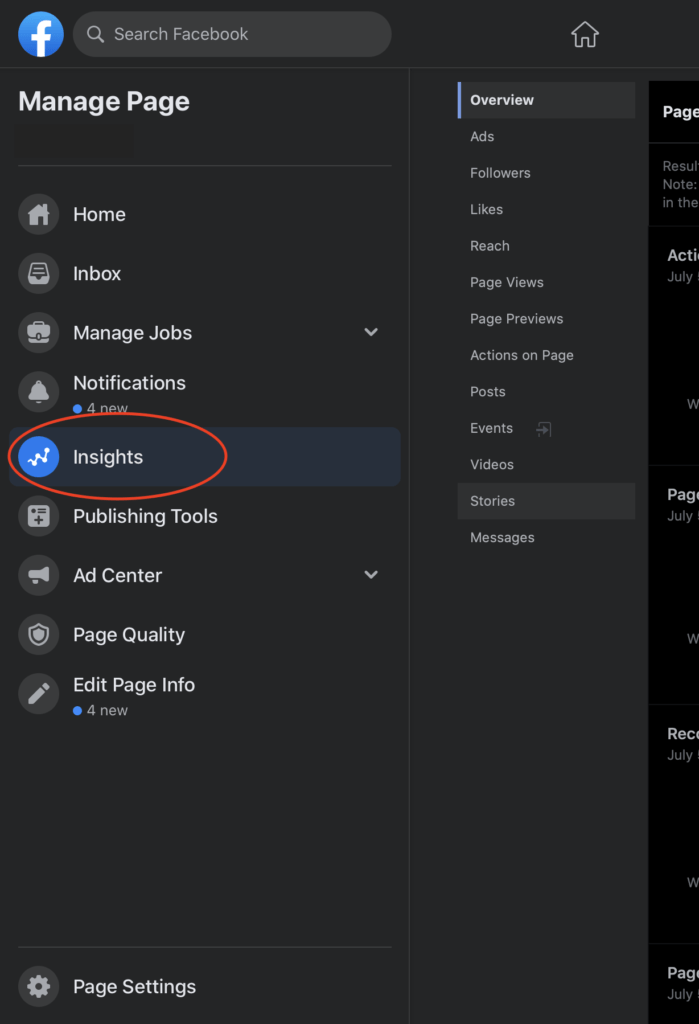 Let's say your brand is a mid-sized premium water company. In that case, you would want to add both similar-sized and local competitors to keep an eye on. Monitoring industry giants like FIJI Water might inspire you, too. It's always a good idea to think outside of the box, in this case, the box is the local market.
For example, for premium water producers we've added the following companies to monitor via Facebook Insights: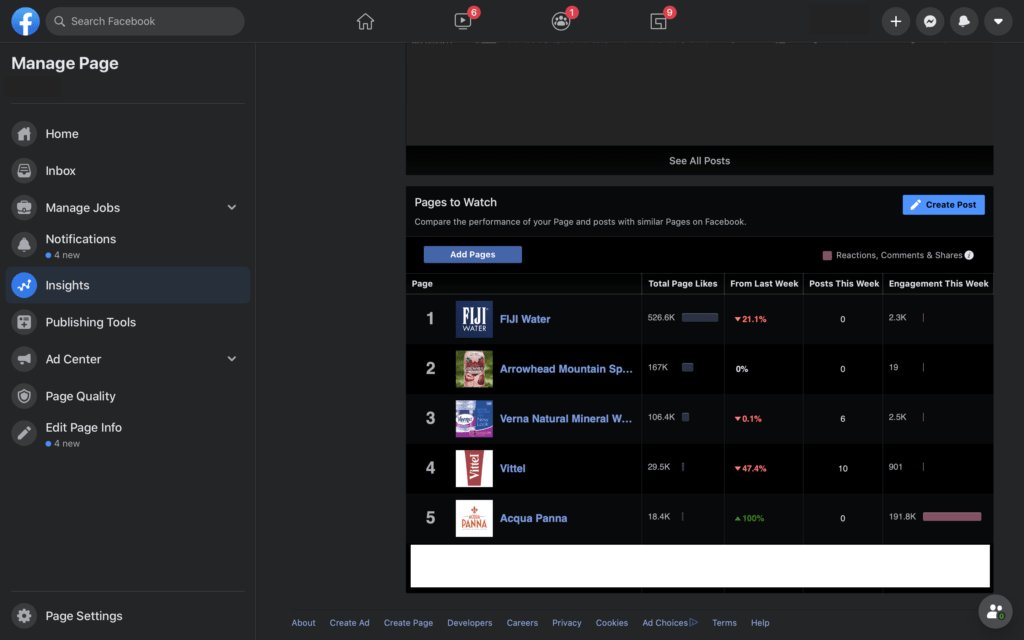 Once the pages are added, you can now see general page KPIs: Total Page Likes, number of Likes received or lost in the From Last Week column, and current week's engagement in the Engagement This Week.
Step 2: Study competitor posts on Facebook
Now that you have your competitor's list on Insights, go ahead and start by analyzing their posts. You can take a general overview at first, but we highly recommend that you study each competitor's Facebook page separately. Furthermore, write an analysis of each competitor's social media strategy and later compare it to yours with the rest of your social media team. This will be very helpful when brainstorming for new campaign ideas. Be mindful of the following aspects when analyzing:
How often do they post?
How much engagement do they receive on their posts?
Is the engagement the same for all posts or do specific formats perform better than others?
What type of media do they use for their posts the most? E.g. images, videos, articles, etc.
To better understand each post's engagement, just click on the post and you can see the number of total reactions, comments, and shares. Make sure to take a look at what type of reactions they receive and keep an eye out on posts that have angry reactions to see whether it's a mistake you should avoid.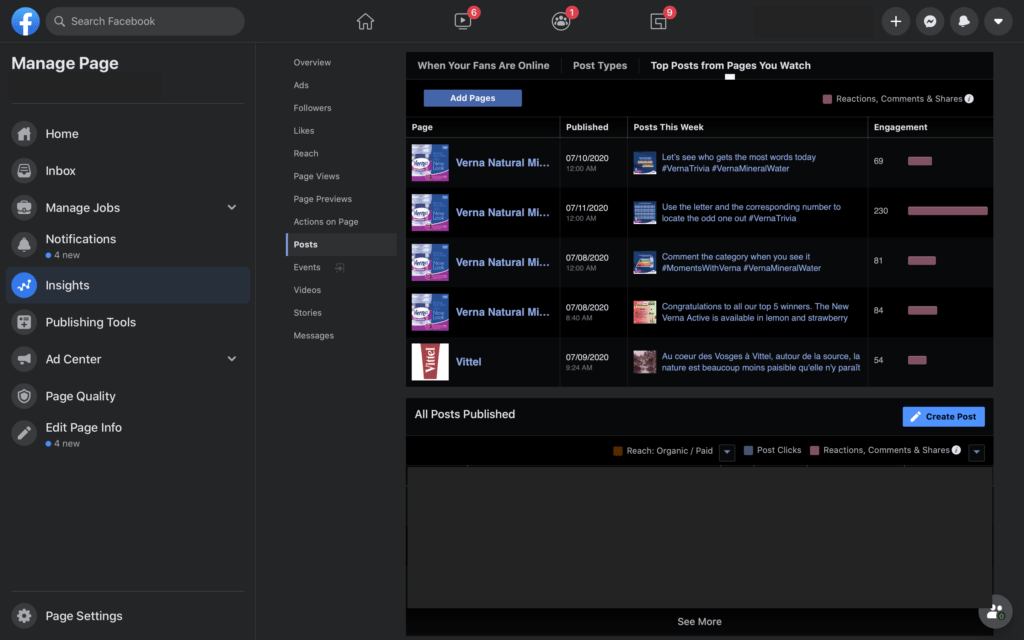 Step 3: Repeat
Make sure to follow these steps routinely, either on a weekly or monthly basis. It is important to make a habit of this so that you are always in a loop of what's your market is up to on Facebook.
Facebook's Insights FAQ
Is there another way of keeping up with competitors without adding them to the Watch List?
Yes. Facebook's Insights only makes it easier to do so, but of course, you can do all of this manually. There are also alternative competitor monitoring tools that you can use.
Will my competitors know if I add them to my Pages to Watch?
Yes and no. Facebook will send out a notification that someone added their page to their watchlist but won't mention which page did. So add away without overthinking.
Staying in the loop with what your competitors are up to can help you to improve your Facebook marketing efforts. So make sure you use the information you can gather from Facebook's Insights tool to learn more about your audience, create better-targeted campaigns, and attract more users to engage with your content.